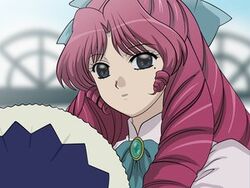 Sendan(せんだん) is one of Kaoru`s inukami. She is designated to lead Kaoru's Inukami. She is also the younger sister of Hake.
Appearance
Edit
Personality
Edit
She is very strict when it comes to leading her pack. Not only that she's strict, she acts and leads in a controlled but in an elegant and lady-like manner. Because of that, she wears long dresses. Like her older brother, she also always carries a fan with her. As leader of the pack, she usually leads such as when the whole pack fought Yoko, (because of Yoko's insult to their master and their pack in Chapter 7: Nadeshiko enter:Part 3) except for Nadeshiko, fought Yoko by starting the Crimson Rays Of Destruction X9 attack followed by the others to combine the strength of their powers into one but in the end, the gained their loss for Yoko's amazing strength and powers (Dai-Jen).
Relationships
Edit
Yoko: In the manga, Sendan and Yoko, were more of a not much-like friends (a little) and kinda more-like acquainted to each other  but because of Yoko's insult and winning victory, they became rivals, after that. In anime, they are already rivals in all the competitions, they will encounter.
Nadeshiko: (Manga) At first, Sendan and her pack wants to get rid of Nadeshiko because of her disagreements on fighting, due to her past(Nadeshiko), which no one knew about it except for Yoko and Hake and also for being Kaoru's favorite. But, because of the fight, thanks to Yoko, they were reunited with her pack again. In her relationship with Yoko, they remain good friends, as well.
Kaoru: Sendan's and her pack's Inukami trainer and master. He is very kind and loving to his Inukamis. He gives freedom to his Inukamis to develop, improve, and show their skills and abilities and also, to prove their worth of serving their master in any way possible.
Her Pack/Kaoru's Inukami: She leads her pack well. She has good relationship with her fellow Inukami except for Nadeshiko but they were reunited after the fight.
In the manga additional details are revealed about Sendan.
Height:162 cm
Bust:82 cm
Waist:58 cm
Hip:83 cm
Age:124
She is also the younger sister of Hake
The Leader of Kaoru's Inukami
She always carry a fan with her
She also have the same age as Igusa